The Audeze LCD-XC 2021 is a recently revised edition of the classic closed-back full-sized planar headphones first released in 2013. It is priced at $1299.
Disclaimer: The Audeze LCD-XC 2021 sent to us is a sample in exchange for our honest opinion. We thank the team at Audeze for giving us this opportunity.
To read more about Audeze products we have reviewed on Headfonics click here.
Note, this 2-page review follows our new scoring guidelines for 2021 which you can read up on here.
Sometime earlier this year Audeze announced a bit of a shakeup to their LCD series of headphones, more specifically the LCD-X open back and the LCD-XC closed-back planar headphones.
This 'shakeup' was included tweaks to both the internal implementation of their driver magnet and Fazor technology as well as an external revision of their existing earpad designs.
The consequence of both changes has been what most have perceived to be a fairly different tuning to both headphones. You will probably see plenty of discussion on the merits of this change for the LCD-X on the internet. Surprisingly, less so for the LCD-XC 2021.
Now, personally, this is my first time listening to the LCD-XC 2021 never mind the original XC which was reviewed by Mike way back in 2014. So advance apologies, I cannot tell you what has changed other than what I have been told from a design point of view and from reading both supplied measured charts.
However, having reviewed the LCD-2 Closed Back recently I am quite keen to see how much of an 'upgrade' the new LCD-XC 2021 actually is.
Tech Highlights
Driver Revisions
Whilst the official announcement in 2021 the actual changes in the production line of the Reference Series LCD-XC 2021 happened a little earlier or around November 2020. You can check your model serial number to see if it is a revised unit as follows:
From 11/9/20 all LCD-XC Leather units with a serial number of 8523700 or higher.
From 11/23/20 all LCD-XC Leather-Free units with a serial number of 8523710 or higher.
The driver size itself on the LCD-XC 2021 is unchanged, this is the same 106mm Ultra-Thin 106mm diameter planar diaphragm used for previous editions. We do know though, over time, Audeze has been able to continually reduce both the thickness and resistance of the film on the diaphragm from the original launch in 2014.
That change most likely means Audeze had their path progressively cleared, so to speak, to allow them to make more aggressive changes to the magnet array, and the Fazor design.
The Neodymium N50 magnets in a proprietary dual-sided array have now been tweaked to being stacked instead of staggered as well as the Fazor count being reduced from 8 'windows' to 6 'windows'.
Ear Pad Revisions
The second known change are the pads with a swap out of the previous memory foam for a different material a few have tentatively called a "half memory foam" substance which are vented though no traditional porous holes are present.
Instead, Audeze has ever so slightly lifted the pad ring from the main housing a little further to enhance the ventilation performance of the LCD-XC 2021 pads.
Design
New Cups
The classic wood facia of the original LCD-XC is gone, well, technically it was gone back in early 2020 but this is the first time I have set eyes on the new design. The new visual is a carbon fiber print not too dissimilar actually to the swirl-type brush stroke and black cups of the LCD-Closed Back.
Both headphones come with a glossy perspex protective cover screwed in on top with the big Audeze branding in the middle so they are finished in the same manner. The LCD-XC 2021 design is quite reflective but does not attract visible fingerprints, however, so they stay very tidy after plenty of handling.
2020 Upgrades
Everything else on the Audeze LCD-XC 2021 has been given the 2020 upgrades. That means big cups with thick luscious angular leather (or leather-free) pads, wide gimbal composite arches with screws on both ends, pivot screws with blocks as well as an overarching headband with a pressure strap.
The leather pressure strap is a little bit thicker and glossier than the current leather-free alternative as well as having a slightly different hole mesh configuration.
Unlike the use of the matte black injection-molded polymer called Noryl on the LCD-2 Closed Back rings the LCD-XC reverts to a machined aluminum ring in a similar black finish.
The LCD-XC 2021 mold does not incorporate the connector housing. These are now to the base of the ring on the LCD-XC 2021 though it is no longer a silver metal finish. Instead, it looks more or less the same matte finish as the ring.
Weight
The final design change is the weight reduction from the original from 700g down to 677g, always a welcome tweak on headphones known for their bulk. That is just 16g more than the LCD-2 Closed back and we can attribute that to the new lighter carbon fiber cups and possible the reduction in the Fazor panels from 8 to 6.
Stock Cable
The LCD-XC 2021 Creator's Package comes with one cable, which is the LCD Standard Single-Ended Cable. This is a 1.9m 20AWG high-purity OCC copper wire in what looks to be a very tight PVC double-braided jacket and split with a clean and light black aluminum ferrule tube for the splitter.
The cable connectors are unchanged with a pair of mini-XLR 3-pin barrels with channel color coding for the strain relief. The connectors are angled so the length of the connectors will not drag on your collar during use. The jack termination is 6.35mm which is ok for me but I would have loved to have seen a 4.4mm or balanced 3-pin XLR choice at the checkout.
I have had a few different cable designs from Audeze in my time but this one is closer to the LCD-4 stock cable in terms of aesthetics and handling. The double-braiding is nice and tight, the flex is supple and it is not too weighty either. You get next to no memory retention so it sits or behaves real nice around you when using the headphones.
Importantly, because there is decent passive isolation from the LCD-XC 2021 you will not hear any kickback from microphonics traveling up the wire when using it. It is very quiet both below and above the splitter.
Comfort & Isolation
The LCD-XC 2021 is actually comfier than the LCD-2 Closed-back which came as a surprise. I presume it's either down to the switch to the leather version or the change in the internal foam being used. Either way, it's more supple than I was expecting. If you are used to using LCD headphones this is actually the most comfortable version I have tried to date.
They do use the new powder-coated split spring steel headband with a vented protein leather pressure strap that is now on pretty much every LCD model except the LCD-1.
This system and new pads do a great job in dissipating spot pressure from the top of your scalp, unlike the original single band that gave you a very concerted pressure point after a while. So, whilst still a heavy headphone, the pressure balance on the LCD-XC 2021 runs remarkably well across the entire headphone.
The LCD-XC 2021 also has a steady but not too strong clamping pressure, aided very nicely by the supple leather pads that are a bit softer than I was expecting. Certainly, those coming from the original XC from 2014 are going to perceive a much-reduced level of uncomfortable horizontal clamping pressure.
Overall, the balance is really good for a headphone of this size and weight. Though closed-back planar headphones such as the Ether C Flow from Dan Clark Audio are much lighter, the LCD-XC 2021 sit very steadily and isolate better than I expected.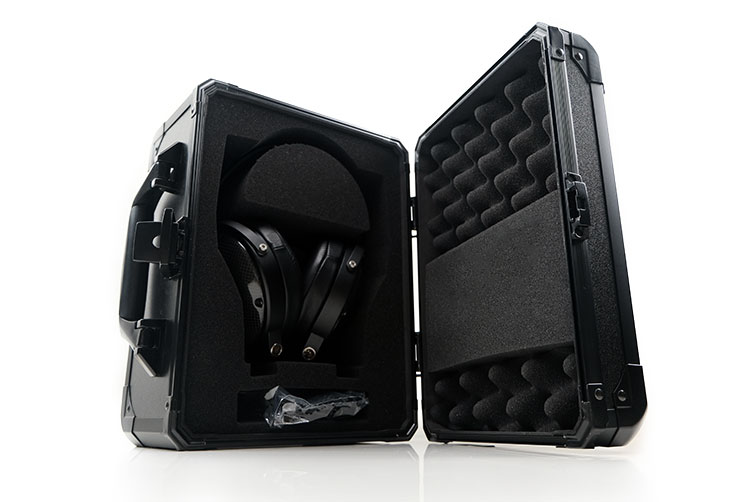 Packaging & Accessories
There are two types of packages for the LCD-XC 2021, the Creator's Edition and the Premium Edition. Both have material differences with the Premium Edition retailing for an additional $500 at $1799.
The sample we received is the Creator's Package at $1299 which includes a nifty new design on the travel case called the Economy case. The Premium Edition gets an upgraded case called the Professional case as well as an additional 1.9m Balanced 4-pin XLR to dual 4-pin mini-XLR cable and a 1/4″ to 1/8″ stereo adapter.
The Creator's Edition, on the other hand, gets the case plus a 1.9m Single-ended 1/4" to dual 4-pin mini-XLR cable plus a user guide and warranty card.
The new black Economy case looks great though. It shoulders most of the older weather-sealed type case's protective heritage but also included a bit more of a crafted box styling and a decent handle and latch on it. I am not entirely sure it is as tough as the older version or as weather sealed and I suspect that's where the Professional case might be the wiser choice if you need it.
The inner space also has plenty of protective foam lining top and bottom for both the headphones and the accessories so no chance of any damage enroute.
Sound Impressions
Summary
I never had the pleasure of hearing the original XC, but for me, the LCD-XC 2021 sounds like no other LCD headphones I have heard before.
For those used to that dark, thick and warm tone of the original LCD-2 or perhaps even the more naturally weighted LCD-2 Closed-back, this clean, articulate, and more mid-centric sounding headphone might come as a bit of a surprise.
And it is fast, at least perceptibly faster than other LCDs in this price bracket with a strong dynamic response, vivid vocals, a neutral to slightly bright timbral mix, and a complete reworking of that midrange curve that allows the presence region to shine.
Response Curve
Now, having not heard the original for a long time I cannot say if the new midrange FR is a significant improvement on the old tuning but from the looks of it on paper, it is a lot more linear, with fewer bumps and dips to wade through.
That should make any new EQ solution a lot easier to create for those that want to fine-tune the LCD-XC 2021 to their preferences and we will talk about that in more detail on page 2.
The rest of the response curve does have some changes from what I normally see in LCD headphones with a milder sub-bass rise up to about 5-100Hz that doesn't remain as elevated for as long as the LCD-2 Closed Back so it is not a dominant warm tone in this presentation.
Instead, it takes a little dip to the lower mids which is where that cleaner neutral sound takes its cue from as well as the lighter fundamental. You do still get that classic Audeze lower-mids rise from 500Hz upwards but this is a steeper incline right up to its peak amplitude at 3k.
Everything in that zone comes out front and center with higher-pitched female vocals in particular comparatively up close and personal. Certainly, if you are coming from the LCD-2 Closed Back this will be the region that leaps out the most on initial impressions.
From there, there is only one blip outside of a target response type curve with a 5-6k gain of around 2-3dB then you get a relatively slow fade to 10k. The LCD-XC 2021 is not blessed with an ethereal timbral quality but there is some good post 10k energy creating some excellent headroom. This is definitely not a dark or closed-in sound for a Closed Back headphone.
Timbre
Overall, the LCD-XC 2021 is more neutral in its timbre than the LCD-2 Closed Back. There is less of a sub-to-mid-bass bump and a flatter upper bass response so that traditional LCD weight and warmth are not as present here.
I would not class it as overly dry or shallow, however. The depth is excellent, with excellent clarity right down to 50-20Hz so no issues at all on the extension but rather the weight is just a shade on the lighter side.
One thing to note is the discipline of the driver is excellent for bass tweaking. Pump it up say by 2-3dB or even 5-6dB on a low-shelf PMEQ and it responds beautifully so if you want a better fundamental, (and more warmth), you can get it quite easily from the LCD-XC 2021.
Mids timbre is a mix of neutral to natural through the lower-mids to neutral to slightly bright on the upper-mids peak around 3k. The slight 5-6k peak injects a little bit of shimmer into higher-pitched midrange instruments and female vocals.
Note body is competitively neutral also, a little bit lighter and airier than the LCD-2 Closed Back but with the forward imaging, it sounds like a nice counterbalance to me and not too heavy going.
In the final stretch, the percussion timbre is clean but not overly ethereal with that lack of upper treble peaking. That means percussion timbre is bright but solid in weight and not brittle sounding.
Staging
Some of these Audeze closed headphone staging performances are ridiculously good and the XC is no exception. For me, the LCD-XC 2021 outperforms the LCD-2 Closed Back with more top-end reach, air, and generally a far more complex or vivid sounding staging quality.
Despite the very forward nature of the mids, the air running throughout is excellent. Nothing feels cramped, congested, or veiled on the LCD-XC 2021 with plenty of post-10k amplitude to give you some surprisingly good headroom.
Yes, the stock tuning weight could do with a 2-3dB more sub-100Hz just to give those lower-mids instruments sitting just being the vocals a bit more power. However, some judicious EQ will give you some decent payback on the low-end. As it is, the clarity and air on the LCD-XC 2021 down to 20Hz is not a problem.
Click on page 2 below for synergy and select comparisons.
Sharing is caring!