A More Detailed Look at MailerLite's Top Features
As you can see from this MailerLite review, it offers a good range of features, and gains points for being so user-friendly. Let's take a closer look at the pros and cons of its key features:
MailerLite Landing Page Builder
We've done extensive testing on MailerLite's landing page builder, and recommend it very highly.
The fact that you can build and publish up to 10 landing pages for free is a big plus, especially when you consider just how expensive a dedicated landing page builder can be ($40-$90/month).
Note that if you wish to publish your page on a custom domain, you'll need to move up to the Growing Business paid plan ($10/month).
So what's so good about the MailerLite landing page builder?
Being a drag and drop builder, it's super easy-to-use.
You have plenty of content elements you can add, like countdown timers, events, surveys, etc.
Form fields can be easily edited, and form submissions go straight into whichever list you select.
There are options to edit SEO settings (including whether you want your landing page to be indexed).
You can trigger automations, for example, a welcome series, follow-up message or reminder email in the case of an event.
There are plenty of good-looking modern templates on paid plan.
Customer support are very responsive and helpful.
The Stripe integration means you can sell services and products on your landing pages.
What's not so good?
MailerLite's free plan doesn't include any landing page templates.
Reports on the free plan are also a little thin, only including the number of subscribers, views and conversions.
Pro users will be missing the option to add personalized dynamic content. For example, you may wish to show users in New York an event that's specific to them and users in San Francisco another. If this sounds like something you're in need of, check out ActiveCampaign's landing page builder.
MailerLite Templates
As I mentioned above, MailerLite's paid plans come with 200+ landing page templates and 50 newsletter templates. And to access these, you'll need to be on one of the paid plans.
It's definitely disappointing that no templates are included for free, though you won't actually be starting with a blank canvas. The screenshot below shows what you'll be working with if you select 'Start from scratch' in the newsletter editor. I'd say, then, that the free plan actually includes one template to help get you started.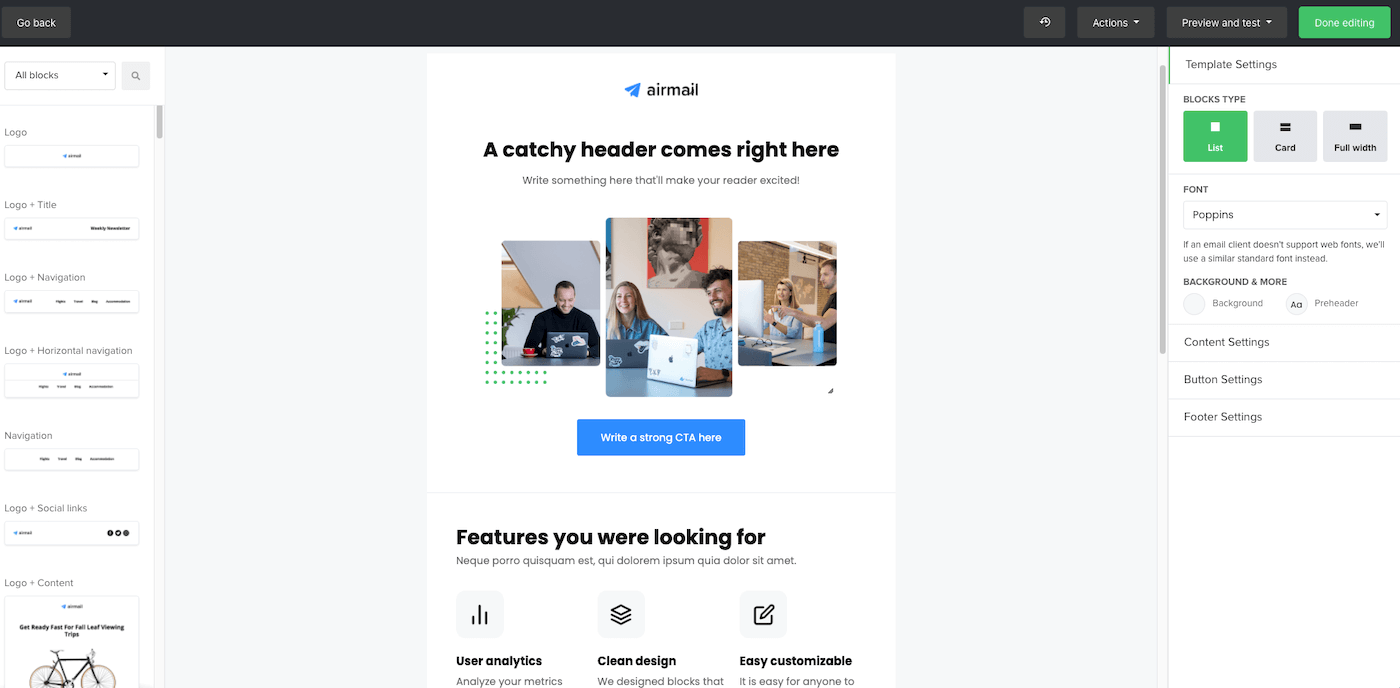 We rate MailerLite's templates very highly, as they're all responsive and were clearly made by experienced designers.
You can sort by category and edit the content with ease. You can also create your own template and save it for future use.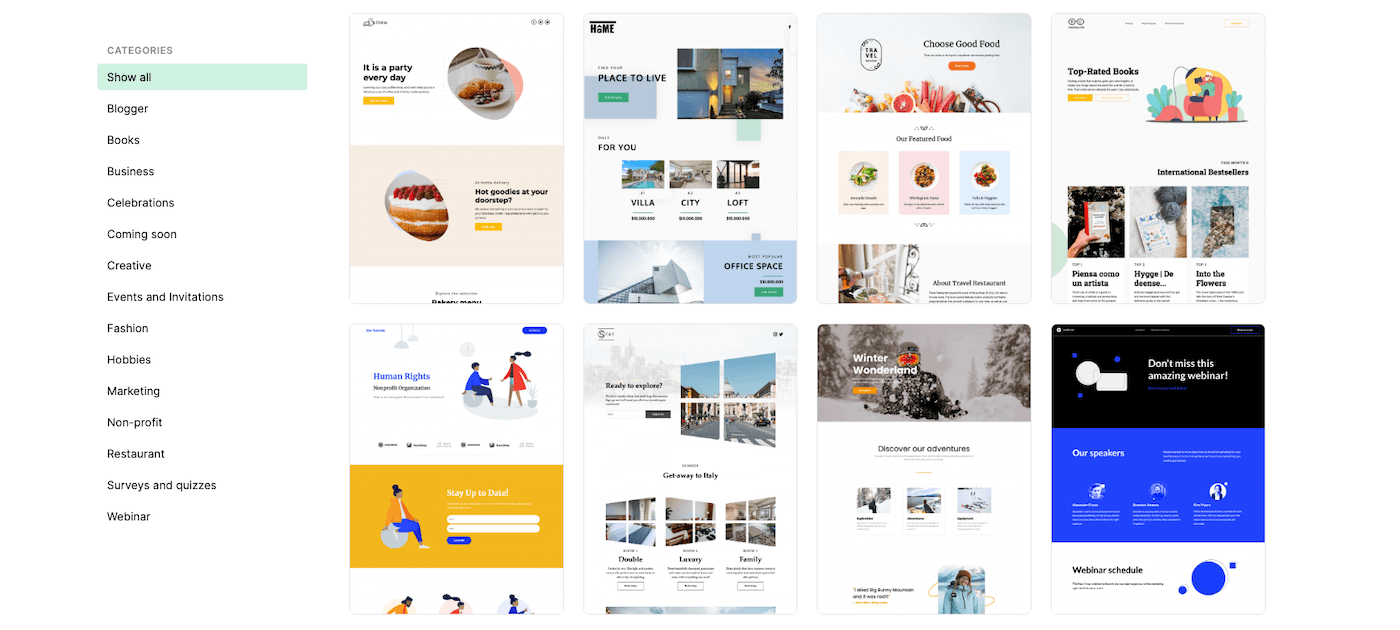 If you want to insert your own custom code or password protect your pages, you'll need the Advanced plan ($21/month).
Drag and Drop Editor
The drag and drop editor is one of the best editors we've used (and we've tested a lot!). It's fast and provides you with tons of content elements (video, testimonials, image carousels, quizzes, etc.) so you can make your campaigns as engaging as possible. Dynamic content means you can make your emails ultra-personalized, too.
PROSCONS
List Management
MailerLite doesn't limit the number of lists you can have, and this may be a key reason why Mailchimp users migrate to MailerLite.
There are two kinds of lists you can build with MailerLite: Segments and Groups.
Segments: This is a dynamic group. Each segment has at least one rule or condition that subscribers must meet to be part of this list. Once the rule is met, the subscriber is automatically added to the segment. This allows you to send targeted communications to those contacts who it's most relevant to.
Groups: This is a static group. Think of these as interest groups. Here, you manually add and remove contacts and they don't need to meet any kind of criteria.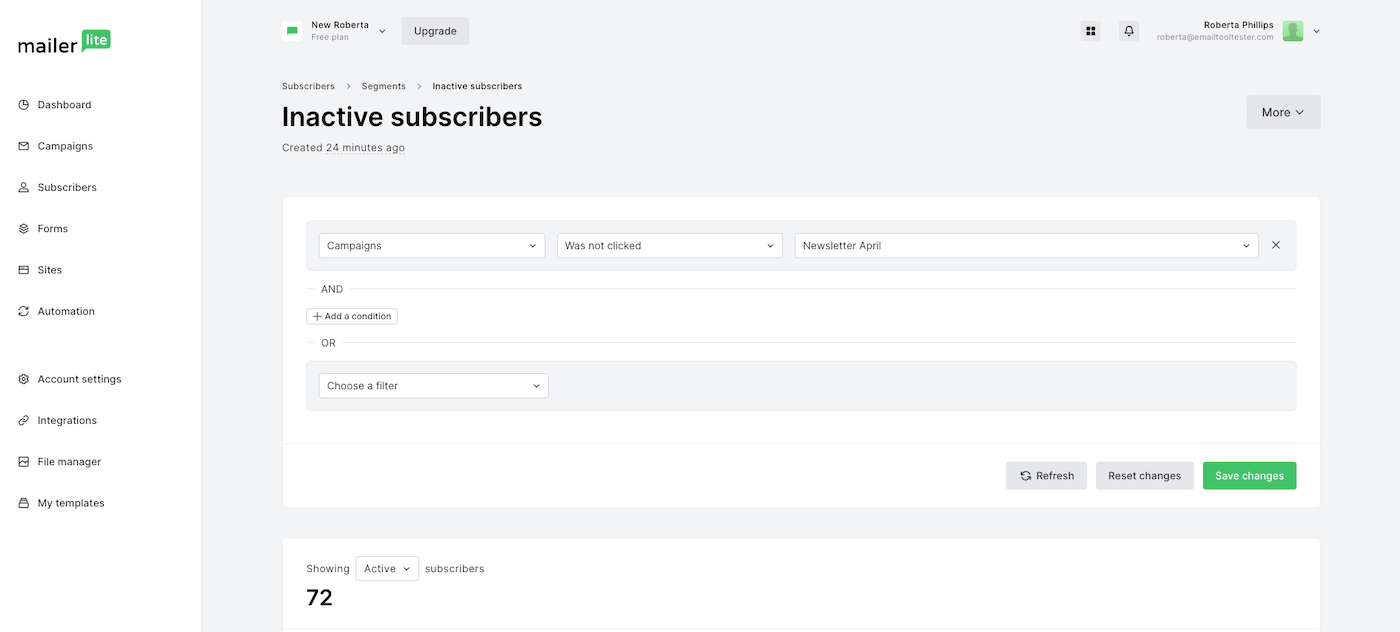 Segmentation filters include if a subscriber has opened/clicked on a certain campaign, if they are in a particular time zone or have been inactive for a certain amount of time.
These segments can be used in your marketing automation campaigns.
Compared to pro email marketing tool ActiveCampaign, MailerLite's list management tools may not be as sophisticated, but you'll find them much easier to use.
MailerLite Deliverability
MailerLite's deliverability is consistently excellent, according to our bi-annual tests. With an average of 97% (based on our last three rounds of testing), it's clear this is an area MailerLite takes very seriously.
One thing to note, however, is that it averages about 20:80 when it comes to landing emails in Gmail's main inbox vs the Promotions tab.
With the addition of features such as the ability to sell digital products and recurring subscriptions on top of the website and landing page builder, MailerLite is definitely heading towards all-in-one marketing platform territory.