Are you looking for one of the best web hosting providers in Indonesia? Here are some of the top options for you.
There are numerous web hosting providers in Indonesia. Any of them can offer web hosting to business owners and private individuals, but not all are created equal. To help you choose in this list we will look at the best hosting and servers in Indonesia.
Top 9 Hosting and Servers in Indonesia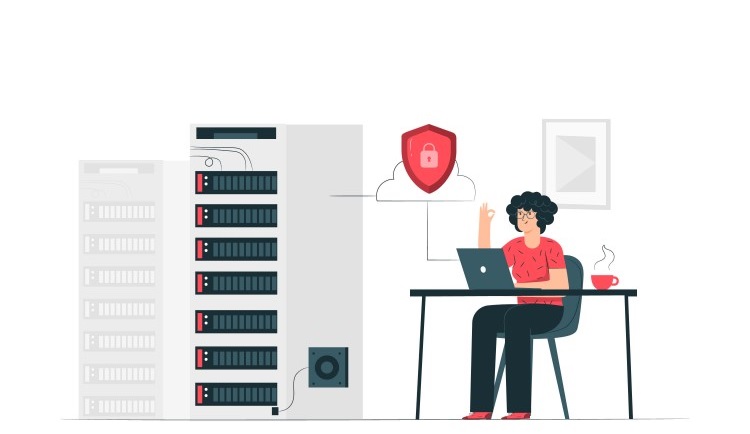 Here are the best Hosting services for those who want Indonesia based websites for businesses. We've included lots of information within the reviews to help you choose between them.
NiagaHoster – Best Unlimited Web Hosting Services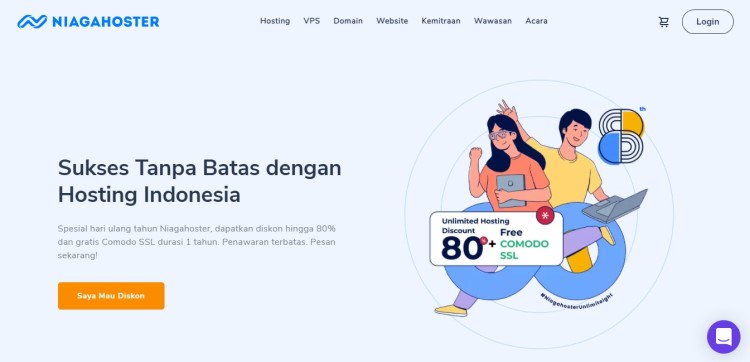 Set up in 2014, this web hosting company has grown quickly. They now are one of the most used web hosting providers within Indonesia and have more than 30,000 registered users.
Pros:
All packages come with unlimited bandwidth and a free SSL certificate.
The data centre is located in Jakarta, close to the Indonesian market for improved response times.
There is an easy-to-use website builder that is included with all packages.
Secure your data with their high-end security options.
There is a one-click installation service for more than 320 applications.
Can get a free domain for the lifetime of your plan.
Cons:
Although it is easy to use, the website is limited to a narrow selection of outdated themes.
Small support team. Response times during busy periods can be slow.
Customer Support:
They have a small team to help customers with technical issues.
Support is offered via live chat, email, calls, and contact forms.
Uptime:
Their uptime is between 99.99% and 99.9999%.
Pricing Plans:
Baby: Rp 19.800 per month
Student: Rp 38.900 per month
Personal: RP 61.900 per month
Business: Rp 84.900 per month
Rumah Web – Best Cost-Effective Web Hosting in Indonesia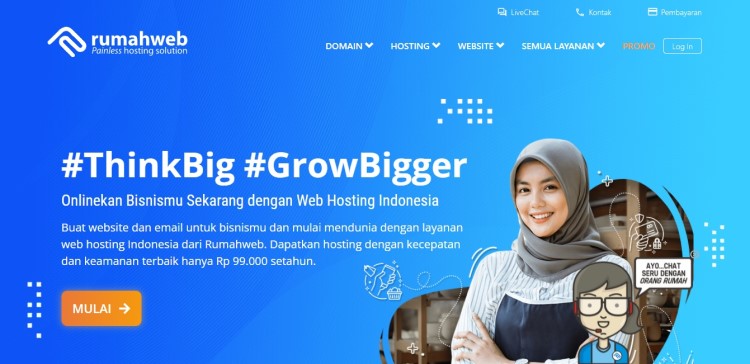 Rumah Web offers lots of different web hosting packages, from shared hosting to VPS hosting. There are also other features that make this a great option.
Pros:
A very simple and intuitive website builder to help you create your website.
Very cost-effective plans that can help you get your website online quickly.
There are three server locations, including one in the US.
Can include an unlimited number of email addresses attached to business plans.
Can host up to 29 different websites on the most expensive accounts.
There is a wide range of hosting packages, so you can choose a plan that matches your needs.
Cons:
Their uptime is not stable, and you cannot guarantee that your website will always be active.
There is no backup feature provided with the plans.
Websites hosted can have very poor loading times.
Customer Service:
Support team is available all the time, 24 hours a day, seven days a week.
You can reach them by email, telephone, and live chat.
They have an experienced team of technicians to help.
Uptime:
Their uptime is approximately 99.9% which is one of the lowest on the list.
Pricing Plans:
Shared Hosting:
Entry: Rp 15,000 per month
Small: Rp 17,900 per month
Medium: Rp 29,900 per month
Large: Rp 49,900 per month
VPS Hosting:
Value: Rp 199,000 per month
Deluxe: Rp 299,900 per month
Premium: Rp 460,000 per month
Silver: Rp 920,000 per month
Gold: Rp 1,800,000 per month
Platinum: Rp 3,600,000 per month
Idwebhost – Most Popular Web Hosting in Indonesia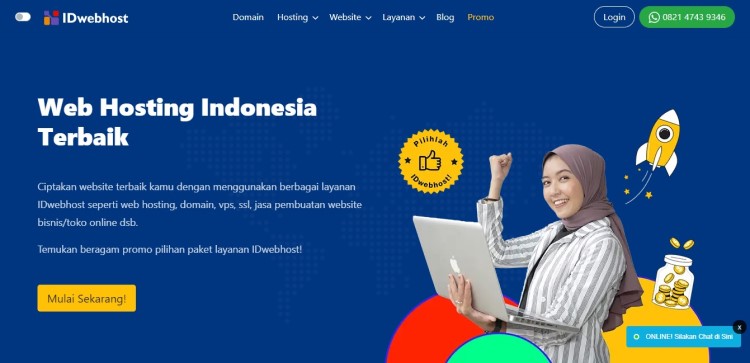 This web hosting company is one of the most popular options in Indonesia with more than 100,000 customers. While there is little support for advanced users, there are affordable plans that can help beginners get started.
Pros:
Very affordable and cost-effective plans for new website owners.
Their online support is geared to helping those who don't have technical knowledge.
There are free website building tools that you can use for your new website.
Most features that are necessary for building your website are included in the price.
There is a 30-day money-back guarantee if you're not happy with the service.
You can get a free SSL certificate to build trust with audiences.
There is a free domain offer for your new website.
Cons:
There is no uptime guarantee, meaning your website is at risk of going down.
There are no daily backups at certain levels, so you have to do this manually or risk losing your website.
To get the best prices, you have to commit to three years for your website hosting plans.
Customer Service:
Support is available 24 hours a day, 7 days a week.
Support is provided by live chat.
Customer service agents are quick to respond.
Uptime:
Uptime is approximately 99.9%.
Pricing:
Larva: Rp 19,900 per month
Pupa: Rp 39,900 per month
Imago: Rp 69,900 per month
Qwords – Best Cloud Hosting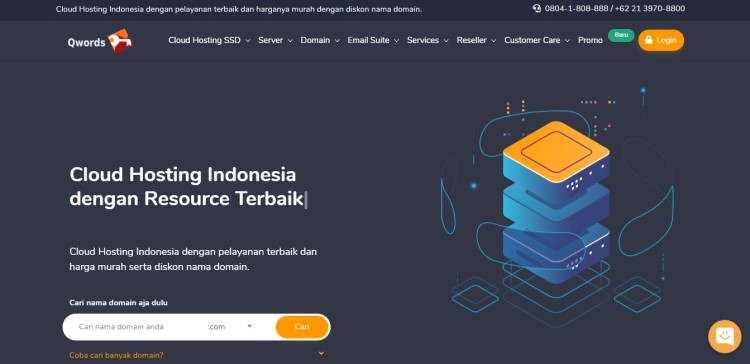 Qwords allows users to benefit from a wide variety of cloud hosting services from VPS, web, dedicated and more. They have servers based in Indonesia, Singapore, and the USA.
Pros:
There are global locations for their servers, allowing for visitors to get the best response times.
There are affordable packages that are suitable for all website owners.
You can benefit from complete documentation to help you manage your website and server..
There are backup services available to protect your website.
One of the best dashboards for easy access to all the services available.
They offer in-person meetings for support and sales.
There are free website hosting migration services available.
Uses cloud hosting infrastructure that helps to keep uptime higher.
Cons:
There are concerns about the reliability of the uptime of the servers.
You can be charged more if you are late on your payments.
Customer Service:
You can reach the support team via a support ticket, phone or Whatsapp.
You can request an in-person appointment to visit their office through the dashboard
Support is offered 24 hours a day, 7 days a week with fast response times.
Uptime:
Pricing:
Cloud VPS XXS: Rp 135,000 per month
Cloud VPS XS: Rp 220,000 per month
Cloud VPS S: Rp 390,000 per month
Cloud VPS M: Rp 570,000 per month
Cloud VPS L: Rp 950,000 per month
Dewaweb – Best Hosting for UpTime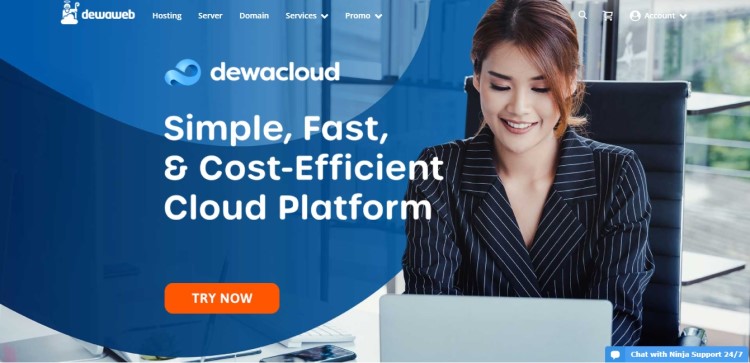 Dewaweb offers cloud hosting and VPS from Indonesia. They have data centres in 12 locations across the world including in Asia, Europe, and North America. They currently have roughly 32,000 customers around the world.
Pros:
Can access advanced and premium features like Cloudflare, Railgun, LiteSpeed and more.
Can get access to free lifetime domain registration.
Comes with a very rare 100% uptime service level agreement.
There is a highly responsive support team that is highly skilled in their roles.
There are 12 server locations across the world, enabling good loading speeds across the world.
Cons:
Support is only in Indonesia, limiting those who can use the service.
The website builder is a paid add-on.
Uptime:
They guarantee a 100% uptime for your website.
Customer Service:
Highly responsive support from the team.
Can only deliver support in Indonesian.
Pricing:
Scout: Rp 20,000
Hunter: Rp 40,000
Warrior: Rp 90,000
Guardian: Rp 140,000
Crusader: Rp 250,000
Paladin: Rp 600,000
Oracle: Rp 1,200,000
DomaiNesia – Best Hosting for Developers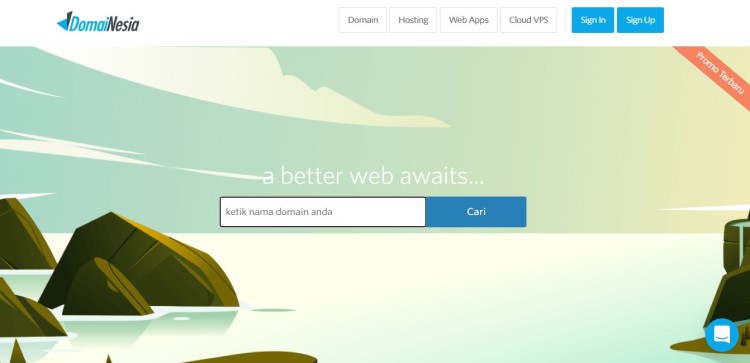 DomaiNesia offers some cost-effective hosting and VPS hosting. They have servers based across the world, including in Indonesia, the US and the EU.
Pros:
Numerous server locations allow for faster website loading times across the world.
You can access Cloudflare with Railgun to help you have even faster loading times.
Litespeed web server that is powered by SSD.
Your website is backed up daily on the cloud, providing you with reassurance and security.
There are developer-friendly tools that you can use.
You're provided with a free SSL Certificate.
You can have a free domain.
Access to unlimited bandwidth for those sites with high levels of traffic.
Simple pricing options.
Cons:
There is a limited 10-day money-back guarantee.
There is no dedicated server plan for those that want the best service.
Uptime:
Uptime is reported to be 99.9%.
Customer Service:
There is lots of in-depth documentation to help those business owners who have little experience in building/managing a website.
Can access customer service via phone, email and live chat.
Pricing:
Extra: Rp 16,000 per month
Super: Rp 32,000 per month
Monster: Rp 64,000 per month
Jagoan Hosting – Best Hosting for Customer Service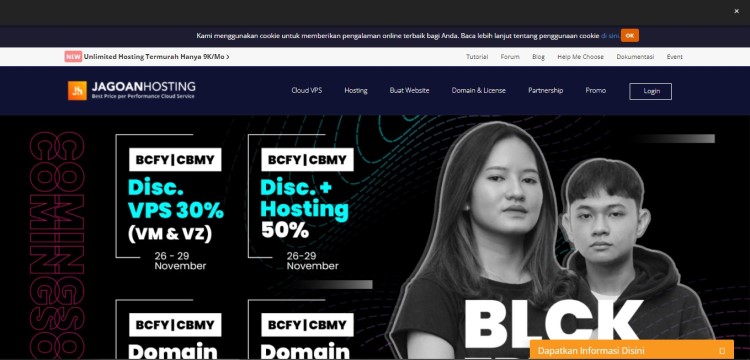 Jagoan Hosting offers Cloud-based shared hosting and VPS to customers in Indonesia and Singapore. They also offer hosted emails and SSL certificates.
Pros:
Gain access to free hosting setup for those new to website hosting.
You have a 30-day money-back guarantee.
Unlimited bandwidth for your website, perfect for growing businesses.
There is a free website builder you can use.
Free SSL certificates are available for your website.
Cons:
Their website and support are only in Indonesian.
Customer Service:
They offer ticketed support which will respond to problems within 3 minutes.
Has high customer satisfaction.
Uptime:
Offers a 99.9% uptime guarantee.
Pricing:
Packet XO: Rp 80,000 per month
Packet X1: Rp 120,000 per month
Packet X2: Rp 240,000 per month
Packet X3: Rp 460,000 per month
Packet X4: Rp 700,000 per month
Domosquare – Best Hosting and Domain Registration in Indonesia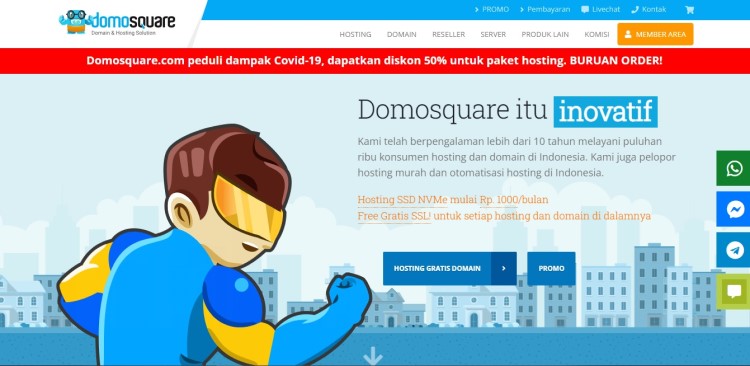 Domosquare is one of the first hosts in Indonesia to offer cost-effective plans and domain registration services. They have thousands of clients around the world with servers based in Indonesia and the US.
Pros:
Has some of the fastest website loading speeds with SSD storage technology.
Secure backups on a remote dedicated server.
There are flexible billing cycles to make this one of the most versatile and cost-effective solutions.
There is a 45-day money-back guarantee.
Free SSL certificates are provided for your website.
There is Cloudflare CDN integration for all websites.
Cons:
Limited customer service means that you can sometimes struggle while waiting for support.
There is a confusing set of hosting options.
Uptime:
They offer an uptime of 99.99%.
Customer Service:
A talented group of customer support agents.
Email is their preferred method of contact.
Live chat and telephone is available, but only during certain times.
Pricing:
DS500: Rp 7,000 per month
Unlimited: Rp 25,000 per month
Enter 7: Rp 49,000 per month
PliKhost – Best for Reseller Hosting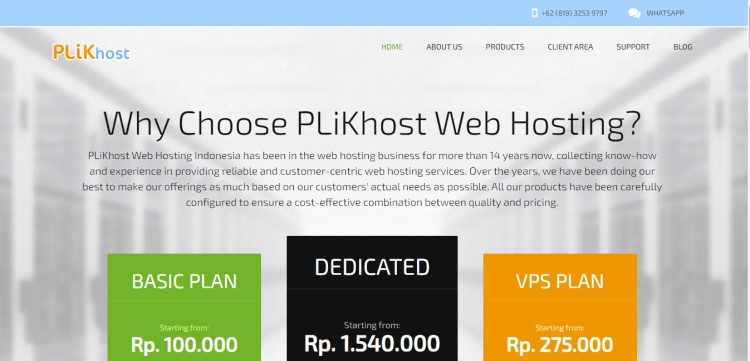 Plikhost is an Indonesian web hosting service that services people across the world. They have servers in the US and offer a good platform for hosting resellers.
Pros:
Daily backups to protect your websites from being lost.
Simplified plans to help you know what you're paying and getting.
Includes email services for keeping in contact with your customers.
High-speed bandwidth.
There are pre-installed web apps/scripts for those new to owning websites.
Easy to use dashboard to control your website.
Cons:
Requires some technical experience to use their services.
Uptime:
Customer Service:
Access to customer service 24 hours a day, 7 days a week.
Pricing Plans:
Starter: Rp 100,000 per year
VPS Plan: Rp 275,000 per month
Dedicated: Rp1,540,000 per month
Conclusion
There are numerous web hosting companies in Indonesia. You can use the list above to compare the top options and select the one that offers you the right mix of cost, services and customer service to get your website online.